ColourFence Commercial fencing Creates Tranquil Retreat for Teenage Cancer Patients at The Cove Macmillan Support Centre, Treliske Hospital.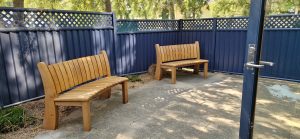 A commercial fencing transformation has taken place at NHS Treliske Hospital in Truro, courtesy of ColourFence and the generous support of the Bolingey Barbarians, a local veteran rugby team known for their community initiatives. A recent installation of a serene blue ColourFence at the teenage cancer unit has created a haven of tranquillity. It offers patients a peaceful outdoor retreat where they can find solace and respite.
Crafted and expertly installed by Cornwall's very own ColourFence installer, Olly Daglish, this thoughtful project has quickly become a symbol of compassion and community spirit. Olly, with his wealth of experience, covers all corners of Cornwall, ensuring that the beauty and durability of ColourFence reach every corner of the region.
ColourFence and Community Effort
The teenage cancer unit's garden, made possible by the mighty Bolingey Barbarians' commendable fundraising efforts, had its joyous unveiling last week. ColourFence's Olly was present at the event, witnessing firsthand the positive impact of his work. Nicola, the clinical nurse specialist overseeing the unit, expressed her sheer delight with the finished project, exclaiming:
 "We did it!!! Thank you, everyone, for making it happen. It's perfect, I can't stop smiling and I can't wait for us to use the space."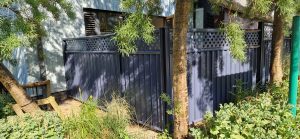 The new commercial fencing installation adds a vital element in enhancing the well-being of patients. As teenagers battling cancer continue to face the challenges of their treatment journey, this serene garden corner offers a private sanctuary where they can relax in the fresh air. The soothing blue hue of the fence, combined with the lush green surroundings, creates an environment that promotes relaxation and reflection.
Commercial fencing that lasts
ColourFence's commitment to quality and durability ensures that this tranquil haven will remain a source of comfort for years to come. The no-maintenance nature of our commercial fencing means that patients, families, and hospital staff can focus on enjoying the space without the hassle of ongoing upkeep. ColourFence comes with a 25-year guarantee as standard and come winter time when storms arise, patients and staff can rest assured their fence will withstand gusts up to 130 mph.
The ColourFence installation at NHS Treliske Hospital stands as a testament to the profound impact of community collaboration and the simple yet powerful act of providing a peaceful outdoor retreat. With every glance at the calming blue fence, patients and staff are reminded of the kindness and compassion that help make healing journeys a little bit lighter.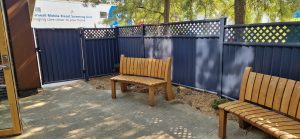 Did you know that ColourFence boasts over 40 branches across the UK? Colourfence offers exceptional services for residential fencing, commercial fencing, and trade projects. Whether you're looking to enhance the beauty and security of your property or seeking to create inviting outdoor spaces, ColourFence has you covered. Our expertise spans a wide range of applications, and our dedication to quality remains unwavering.
If you're interested in exploring ColourFence's commercial services, don't hesitate to get in touch. Simply fill out our convenient contact form at https://www.colourfence.co.uk/contact-us/ . Or reach out directly via email at info@colourfence.co.uk.
Let ColourFence be your partner in creating spaces that not only captivate the eye but also soothe the soul. Join us in transforming environments and uplifting communities, one ColourFence installation at a time.